On March 23, 2012, Mac Miller released his seventh mixtape, Macadelic. It marked a turning point in the 22-year-old's, as of yet, incredibly jubilant and youthful sound. In Macadelic, he talks about love, drug-coping mechanisms, depression, and newfound success. Of course, the one track that transcends these confined ideas is "Loud" which was the most popular track and most similar to stuff he did on KIDS.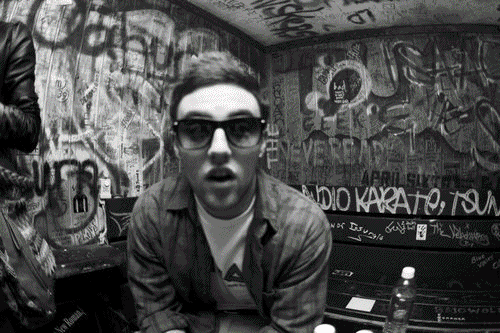 The project featured Lil Wayne, Juicy J, Cam'ron, Casey Veggies, Joey Badass, Kendrick Lamar, Iman Omari, and Sir Michael Rocks. His lyrics are unreal and he uses incredible samples such as "Lucy in the Sky with Diamonds" found in "Desperado". Macadelic was produced when Miller had recently achieved extreme fame. Because of this, he talks a lot about his insecurities and tough realities of becoming famous. The mixtape is not anything like his previous stuff because he isn't talking about smoking weed with his friends and skipping school to go to the park; instead, he references deep metaphorical comparisons to his current situation, taking acid, questioning his self-esteem, and above all, how he is internally struggling to stay afloat. Below are lyrics from my favorite songs that I continue to find compelling. This project is pure poetry.
"Thoughts From A Balcony"
I might stop and see my girl, but I ain't staying long
What if I'm gone, what the fuck you gon' think then?
I told my story, put my life inside this ink pen
Said I'll make it big when, everybody know me
Well, I made it big and, everybody phony
"The Question"
First I shook a million hands and I took a million pictures
But I'm a hostage in my own world
And my thoughts my own enemy, got no time for these bitches
I got too much on my damn mind
So if I add some more stress, I just don't see how I'm a cope
"Desperado"
I'm psychopathic, low key, my hyperactive dome piece
Get no sleep, ill as fuck, the hospitals seem so weak
I stood before an Angel as he told me bout the glory
Put me in a room of people, how the fuck could I be lonely?
"America"
I'm, in a room filled with holographic images
Path is limitless, death, well that's ridiculous
I'm a live forever, cause a legend never die
See the world as simple, but complex in the design
I spent some time just thinkin, where did that get me? High, more drinkin'
"Loud"
I'm a crazy little fucker, think my head done ran away
I experiment with drugs but I won't ever fuck with yay'
I just made a million dollars, still, I think I'm underpaid
Fuck with me? Kid no way, when you meet me, bitch stand up
Judging from the lyrics provided,  it sounds like a depressing album: and it kind of is. But its great, maybe intense at times, but lyrically tremendous. Macadelic has been released again after being remastered. In total, the piece is 64:40. I highly recommend listening to Macadelic from start to finish. Whether you're interested in hearing about the crazy shit that goes on in Mac Miller's head, in deep thought, or just interested in hearing a different sound, give it a listen. Macadelic shows the evolution of a teenage artist into adulthood.
It can be streamed on Datpiff, Apple Music, and Spotify.